The Siding Company that Omaha, NE Homeowners Can Trust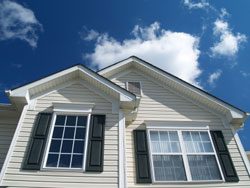 So, you're ready to make an upgrade to your home's siding with a product that comes with industry-leading benefits, but where do you begin? Start by selecting a professional siding company that expertly installs siding with all the options you need. For homeowners in Omaha, Nebraska, and surrounding areas, that company is ABC Seamless of Nebraska.
We know that your home is your biggest investment, so whether you're looking to improve curb appeal or energy-efficiency, our siding installers have the solutions you need. We are dedicated to helping our customers through every step of the process, and with our superior seamless steel siding you can relax knowing that your home's exterior is built to last.
What Sets Us Apart
At ABC Seamless of Nebraska, we've been the trusted siding company of homeowners throughout the area for decades thanks to our reputation for exceptional customer service and house siding installations. We specialize in seamless steel siding, which comes with many exclusive benefits like:
Exceptional Energy Efficiency
Did you know that your siding can have a direct impact on the energy efficiency of your home? With ABC Seamless of Nebraska as your siding company, you'll benefit from a reduction in air infiltration provided by our siding's top-quality insulation and steel ribbons. This helps take strain off your HVAC system, something you may especially appreciate when it comes time to pay your monthly energy bill.
Low Maintenance Requirements
While some siding products require tedious maintenance before you know it, our seamless steel siding is engineered to make your life easier. The seamless construction of our siding means that it won't need to be painted, sealed, or repaired, so you can spend less time maintaining it and more time enjoying your home.
Superior Durability Over Other Siding Materials
Seamless steel siding is remarkable for its outstanding resistance to the elements. Along with a 28-gauge steel construction that makes it naturally stronger than other materials, like vinyl and wood, our siding is also solidly secured with screws to ensure it won't buckle or blow off even in powerful winds. This means unparalleled protection for your home, a benefit that cannot be overstated.
A Gorgeous Appearance
While some siding contractors will simply give you a few run-of-the-mill options to choose from for your siding replacement, ABC Seamless of Nebraska believes you deserve better. We'll provide you with a wide variety of customizable color and style options to choose from, so you can create a personalized look that boosts the curb appeal of your home for years to come.
Put Your Siding Replacement in the Hands of the Experts
In case you need further peace of mind that your exterior siding replacement is in the hands of the best in the business, ABC Seamless of Nebraska has earned extensive certifications and awards and we offer lifetime warranties on our siding installations. As your siding company, we'll make sure your project is completed to your total satisfaction.
Contact Us Today
If you're ready to partner with a siding company that's a head above the rest, contact ABC Seamless of Nebraska today. Our friendly team would love to answer any questions you may have and start your Omaha, NE, home improvement journey.