Durable Patio Products Available for Residents of Omaha, Lincoln, North Platte, Wood River, and Throughout Nebraska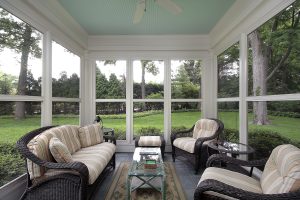 Patio products from ABC Seamless of Nebraska can help transform your home into an oasis of calm away from your workday bustle. Residents throughout Nebraska turn to us time and again because we've established a reputation as a leading provider of home improvement solutions that enhance the beauty and comfort of homes. We understand that time spent with your family in your outdoor space, whether it's barbequing or simply relaxing, can provide some of the most memorable life moments, and we offer durable and safe patio products that can help make these moments as enjoyable as possible.
Our Patio Product Options
When you partner with ABC Seamless for patio products, our knowledgeable professionals will come to your home to help you decide on the one that best suits your needs and wants. Made by the trusted manufacturer TEMO, our line of patio products include:
Sunrooms – A TEMO sunroom will allow you to enjoy the outdoor scenery around your home while remaining comfortable and safe from UV radiation, wind, rain, insects, and snow. They're also incredibly durable and thermal-resistant, which means you'll be able to use your sunroom year-round with little maintenance.
Pergolas – Crafted from heavy-duty aluminum for exceptional durability, our pergolas are available in a variety of attractive styles – such as free-standing, garden arbor, and attached – so you can be sure to find the one that matches your home's character.
Patio covers – With the outstanding protection that our low-maintenance patio covers provide, you can enjoy the outdoors without having to worry about getting soaked by the rain or exposed to the sun's harmful radiation.
Screen rooms – Available in three different styles, which makes it easier to find one that blends with your home's architecture, our screen rooms come with a thermal roof that deflects heat to keep you and your family cool.
Wall systems – With these stylish systems, you can extend your home's living space for unobstructed, head-to-toe views of your surrounding landscape.
Pool and spa enclosures – These elegant patio products provide soothing shade on the hottest days, allowing you to spend more time in comfortable poolside leisure.
Supervised Installation
Whatever product you select, our factory-trained technicians will be able to install it for you, with a project manager closely supervising the installation to give you confidence that your patio will look like the one you dreamed about. And, for added confidence, all our patio products are covered by comprehensive warranties.
Additionally, we offer financing options to qualified homeowners in Omaha, Lincoln, North Platte, Wood River, and other cities throughout Nebraska, to help make your patio renovation more affordable than you thought possible. To learn more about our patio products, contact ABC Seamless of Nebraska today.