Premier Wall System Products Available for Homeowners in Omaha, Lincoln, North Platte, Wood River, and Throughout Nebraska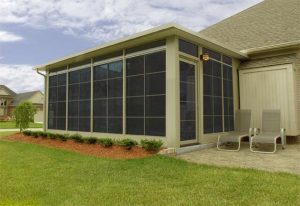 With a TEMO wall system from ABC Seamless of Nebraska, you can create a great place to view the outdoor scenery surrounding your home. The vertical wall systems we offer can provide you with a comfortable sunroom or screen room equipped with windows and doors. We also carry TEMO's under existing wall systems, which can turn any existing covered patio you may have into a fantastic sunroom or screen room as well. And, since both wall system options will expand the living space of your home, they may help increase your home's overall value.
Benefits of Our Wall Systems
Homeowners throughout Nebraska, choose TEMO wall system products from ABC Seamless of Nebraska to create sunrooms and screen rooms because they're:
Durable and long-lasting – Constructed from tough vinyl, TEMO wall systems stand strong for years to come, providing excellent protection from UV rays, rain, wind, snow, and insects.
Easy-to-maintain – Thanks to the durable vinyl construction, TEMO wall systems need little to no maintenance, so you can enjoy your new outdoor living space hassle free.
Extremely customizable – You can have a wall system that suits your exact wants and needs for your home because many customization options are available, including different colors for the wall and frames, transom options, door types, roof types, and wall thicknesses. You can even choose a solid wall configuration if you prefer no windows.
When it comes time for installation, you can count on our trained professionals to erect your wall system quickly and with precision. Our installers always follow our tried and proven processes to ensure they do a perfect job, and the production manager will conduct a final walkthrough upon the completion of your project to check that everything was installed properly. What's more, TEMO wall systems are backed by a limited lifetime transferable warranty, so you can rest easy knowing your investment in your home is secure.
To learn more about the features and benefits of the TEMO wall system products we offer to residents in Omaha, Lincoln, North Platte, Wood River, and all other cities in Nebraska, contact ABC Seamless of Nebraska today. To make these wall systems easier to afford, we have wonderful financing options – including our no-interest financing – for qualified homeowners.