Durable Roofing for Omaha, Lincoln, North Platte, Wood River, and All Other Nebraska Residents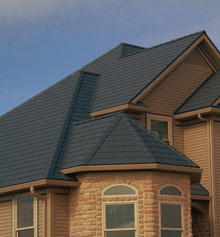 When it comes to protecting your home in Nebraska, there are few things more important than its roofing. With a steel roof installed by ABC Seamless of Nebraska, you will get a durable product that's a permanent solution – it's the last roof you'll ever need to buy.
Consider These Features
ABC Seamless roofing provides many incredible features, including:
Resistance against extreme winds – In Tornado Alley, it's crucial to have a roof that is strong and wind resistant. Our roofing material is among the toughest you'll find anywhere. ABC Seamless roofs have an incredible wind rating of 160 miles per hour – winds that are as strong as those in a strong Category 3 tornado.
Class 4 impact rating – Our steel roofing carries the highest possible resistance to hail and debris.
ENERGY STAR rating – Trying to lower your heating and cooling costs? With roofs from ABC Seamless, you can help improve your home's overall energy efficiency, lowering your fueling costs and even helping to reduce the stress on your heating and cooling equipment.
Cool Edge coating – Our roofs are designed to reflect heat and light away from your house, which can help the inside of your home feel a little cooler during oppressively hot summer days.
All ABC Seamless roofing installers are highly skilled, and they'll make sure your roof is installed with the superior craftsmanship that has helped ABC Seamless earn a Top 200 Exterior Contractor ranking from Qualified Remodeler.
To learn more about our exceptional roofing or for information on our house gutter options, house siding, and more contact us today. ABC Seamless is a roofing contractor that serves residents in Omaha, Lincoln, North Platte, Wood River, and throughout Nebraska.