A Siding Contractor Offering Seamless Steel Siding for Omaha, NE, Homeowners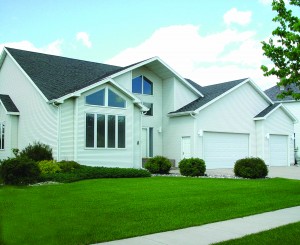 Are you looking for a siding contractor in Omaha, Nebraska, that offers seamless siding? If so, ABC Seamless of Nebraska is the only name you need to know. We offer and install beautiful steel siding that is completely seamless and will give the sides of your home a sleek, uniform appearance. And, when you choose us as your siding contractor, we can help you customize your siding's color and texture to meet your aesthetic preferences.
In addition to boosting the curb appeal of your Omaha, NE, home, our seamless steel siding will also provide the following benefits:
Durability – Made from 28-guage steel, our metal siding is stronger than vinyl and wood siding and won't expand or contract as temperatures change, ensuring that it will last for years to come.
Energy efficiency ­– Our siding will reduce air infiltration into your house, which will help your HVAC unit work less when maintaining your home's temperature.
Protection against the elements – Our siding is screw-secured and non-combustible, which will help protect your home from high winds and fire, respectively.
Minimal maintenance – Unlike wood siding, our steel siding does not need to be scraped or painted, saving you time and money on the upkeep of your home.
As your siding contractor, we will also make sure that your siding is properly installed. All of our installers are company-trained and supervised by a certified production manager. And, to give you added peace of mind, we back our siding with a transferrable lifetime warranty.
If you would like us to be your siding contractor for your Omaha, NE, residence, contact ABC Seamless of Nebraska today. Also, make sure to ask about our great financing options.