Seamless Steel Roofing Available to Homeowners Residing in Omaha, Lincoln, North Platte, Wood River, and throughout all of Nebraska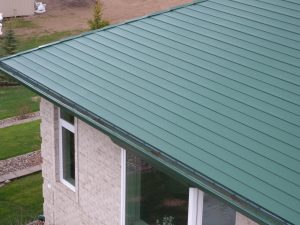 There are few things more important than making sure that your home and family are protected from the elements. That is why investing in a roofing system that can provide the protection that you need can be extremely valuable. At ABC Seamless of Nebraska, we offer roofing that is the epitome of excellence – seamless steel roofing. This roofing option will outperform all others on the market, and unlike asphalt shingles and other traditional roofing types, it is a permanent roofing solution. That's right, with steel roofing, you will never have to replace your roof again. And, it is protected by a non-prorated, transferable, lifetime warranty as evidence of its premier craftsmanship.
The Benefits of Steel Roofing
While the longevity of our seamless steel roofing may be enough to sway your decision to invest, consider these other key benefits:
Durability – Our roofing is made from heavy-gauge, hot-dipped, G-90 galvanized steel, which is tough enough to withstand 160 mph winds, or the strength of a Category 3 hurricane. Plus, with a Class 4 impact rating, it carries the highest possible resistance to hail, rain, and airborne debris. This virtually guarantees your home and family will be safe during all weather conditions.
Energy efficiency – Thanks to a Cool-Roof technology, our roofing will deflect heat and light away from your home to help make it feel more comfortable and reduce the strain on your HVAC unit. Plus, our roofing was bestowed the highest honor of being ENERGY STAR certified.
Beauty – Do you love the look of asphalt shingles but don't want to deal with their upkeep and replacement requirements? If so, then we have good news for you. Our steel roofing mirrors the look of asphalt shingles without the drawbacks, so you never have to sacrifice longevity and performance for beauty ever again. Plus, we offer a plethora of color options, all coated in a Kynar® finish to resist fading over the years.
Completely Seamless Roofing
And, possibly best of all, our steel roofing is manufactured to be completely seamless. Our steel roofing is measured and cut in a seamless panel by seasoned and factory-trained technicians to match the exact dimensions of your home. This creates a flawless appearance and eliminates the pesky seams that can distract from the beauty of your home and cause problems down the road, including water infiltration.
Ready to equip your home with an industry-leading roofing option? If so, then contact the professionals at ABC Seamless of Nebraska today to have a seamless steel roofing system installed. We are proud to serve all residents of Omaha, Lincoln, North Platte, Wood River, and all of Nebraska.