Composite Double-Hung Windows – Long-Lasting Windows for Homeowners in Omaha, Lincoln, North Platte, Wood River, and Other Cities in Nebraska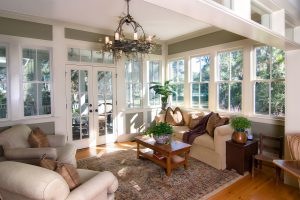 Are you in need of new double-hung windows to replace old, broken windows or for an entirely new house? If so, ABC Seamless of Nebraska has the perfect windows for you. Any double-hung window you purchase will have a fully-welded solid reinforced vinyl frame and sash for years of strength and stability. Your windows will also have a beautiful wood appearance and a beveled frame and sash for a classic aesthetic and excellent sight lines. Plus, you can choose from several fantastic interior, exterior, and hardware colors to ensure your windows complement your home's color scheme.
Double-hung windows from ABC Seamless of Nebraska are also an excellent choice if you would like to make it easier for your HVAC unit to maintain a stable and comfortable temperature for your home. The features that can help reduce energy usage and potentially save you money on your monthly utility bills include:
The reinforced vinyl material, which insulates against heat transfer 2.5 times better than rigid vinyl and 1.5 times better than wood
Two reflective glass coatings that will reflect the sun's heat during the summer and keep heat inside during the winter
An insulating proprietary gas blend that further assists with minimizing heat exchange through the glass panes
Triple weather stripping that significantly minimizes air infiltration and draftiness
Installation by Trained Experts
Installation of your double-hung windows will be completed by a team of our trained experts. Supervised by one of our certified production managers, they will follow our exact processes and best practices to install your windows properly and with precision. The expertise and professionalism of our installers are just two reasons we have an A+ rating with the Better Business Bureau.
What's more, once your double-hung windows are installed, there will be little maintenance requirements on your part as the reinforced vinyl frames won't rot, mildew, grow fungus, or become infested with termites. Their tilt-in sashes also make for easy cleaning from inside your home. And for additional peace of mind, every window you order will come backed by a 50-year warranty.
For more information regarding the features and benefits of our double-hung windows, contact ABC Seamless of Nebraska today. Our excellent financing options can help make our windows easier to afford for qualified homeowners in Omaha, Lincoln, North Platte, Wood River, and other cities throughout Nebraska.