Steel Siding Columbus, NE
Gorgeous Steel Siding for Your Columbus, NE, Home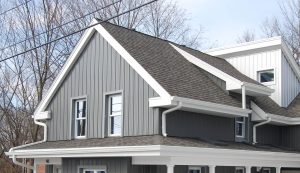 Is Mother Nature wearing down the siding of your home? Seasonal variations can wreak havoc on your home's siding, leading it to deteriorate faster than you expect. Traditional siding materials like wood and vinyl, while inexpensive, aren't designed to withstand all types of weather. Over time, these materials will buckle, fracture, fade, and warp, detracting from the aesthetic of your home and leading to poor energy efficiency and pest invasion. If you've discovered that your home in Columbus, Nebraska, needs siding replacement, you'll need ABC Seamless of Nebraska's steel siding.
Benefits of Steel Siding
Our seamless steel siding is unbeatable when it comes to improving your home's efficiency and longevity. With our siding, you'll enjoy many benefits such as:
Long-lasting durability – Unlike other siding materials, our steel siding won't fade, rot, or crack. We use 28-gauge steel that will never need repainting, sealing, or repair!
Improved energy efficiency – Thanks to the elimination of overlapping seams, which provide opportunities for air leakage, our siding is far better at maintaining the comfort of your home's interior.
Enhanced aesthetics – Vinyl siding's overlapping seams can be unattractive. Cracked and rotten wood is also dangerous as it can compromise your home's structural integrity. But steel siding, made to fit your home's exact measurements and available in various colors, will preserve your home's curb appeal for years to come!
Contact ABC Seamless of Nebraska Today
Give us a call if you're ready to say goodbye to your Columbus, NE, home's deteriorating and unattractive siding. Our team of experts is prepared to help you restore your home with beautiful, long-lasting steel siding. The days of arduous upkeep will be over, and you will be able to enjoy the benefits of top-quality materials and excellent siding installation service that our clients have come to anticipate. We've been wowing Nebraska residents since 1972, and we stand behind our work with a lifetime warranty to ensure that your home is safe.