Among Siding Contractors Serving Homeowners in Omaha, Nebraska, ABC Seamless is the Best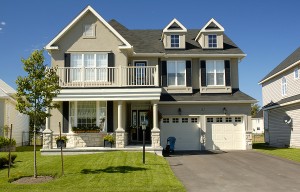 If you are looking for siding contractors in the Omaha, Nebraska, area that can provide you with durable, beautiful siding, then look no further than ABC Seamless. Since our founding in 1989, we have built a solid reputation by installing highly attractive seamless siding on homes throughout the Greater Omaha area.
While it's not uncommon to find Omaha siding contractors that claim to install seamless products, what they usually only offer are pieces of siding that measure between 12' and 24' in length, and that simply isn't a seamless product. Ours is seamless because we custom cut it right on site to ensure that every piece is just the right length to reach from corner to corner on the home's exterior walls without any splices or seams whatsoever. What's more, ABC Seamless is the only siding company that manufactures siding from durable, 28-gauge galvanized steel.
There are many benefits to choosing our seamless steel siding, including:
It won't warp, crack, or split
It won't expand or contract with temperature changes
It comes in a wide range of colors and styles to suit the architectural character of your home
It is backed by a lifetime warranty that includes coverage against rusting, fading, and even hail damage
Our longstanding commitment to providing the best possible products and service in the siding industry has helped us to earn an A+ rating from the Better Business Bureau and a ranking among the Top 500 home improvement companies from Qualified Remodeler magazine.
If you would like to learn more about why we are among the premier Omaha, NE, siding contractors, then contact ABC Seamless today.