Premium Slider Window Products for Homeowners in Omaha, Lincoln, North Platte, Wood River, and All Other Cities in Nebraska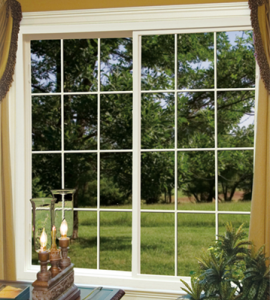 A slider window from ABC Seamless of Nebraska will allow you to open up a panoramic viewing area in any room in your home. Our slider windows are also a fantastic way to bring a contemporary flair to your home as well because these windows have a clean-lined style and sport sleek hardware. Also, with our many beautiful glass and stylish grid options, you can customize any slider window from us to give it a unique look and boost your home's curb appeal.
With a slider window from ABC Seamless of Nebraska installed on your residence, you can also look forward to:
Years of long-lasting performance – Thanks to our windows' incredibly solid reinforced vinyl frame material, you won't have to fret about rot, mold and fungus growth, or termite damage. The frame of an ABC Seamless slider window also resists scratches and impact damage exceptionally well.
No regular maintenance – Unlike wood windows, no painting or scraping is necessary with our reinforced vinyl slider windows, allowing you to fully enjoy them with no regular upkeep on your part.
Better energy efficiency – The reinforced vinyl material of an ABC Seamless slider window insulates better than rigid vinyl and wood, which will help minimize heat transfers into and out of your home. Along with the comfort of a steadier inside temperature, less strain will be placed on your HVAC unit, which may reduce your monthly utility bills.
Peace and quiet – With our slider window installation, your home will be better insulated against heat and outside noises, so you can enjoy peace and quiet while you relax in your home.
We have an A+ rating with the Better Business Bureau, which we have earned by continually going above and beyond for our customers. We do this for installations especially, and we always send a team of highly trained installers to complete the task. Led by one of our production managers, our slider window installers will follow our proven procedures to install your window with precision. What's more, you can rest easy knowing your investment in your home is covered as all our slider windows come with a 50-year warranty.
For additional information regarding the stylish and durable slider window products we offer to homeowners throughout Omaha, Lincoln, North Platte, Wood River, and all other communities in Nebraska, contact ABC Seamless of Nebraska today. Also, be sure to ask about our excellent in-house financing options for qualified homeowners.