Bay and Bow Windows from ABC Seamless of Nebraska for Residents of Omaha, Lincoln, North Platte, Wood River, and All Other Cities Throughout Nebraska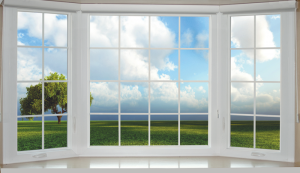 Bay and bow windows are the perfect way to brighten up any room and create a charming and beautiful space for your home. Fortunately for you, ABC Seamless of Nebraska offers and installs top-of-the-line bay and bow window products for homeowners throughout Nebraska. With these windows, you can create a bath surround, a peaceful nook where you can read a book, a mini greenhouse, and more, without adding any square footage.
Benefits of Our Windows
You can purchase bay and bow windows from other contractors, but none compare to quality of the ones you'll find at ABC Seamless of Nebraska. The benefits you'll enjoy with these windows include:
Longevity – With their reinforced vinyl frames, our windows are built to last. Stronger and sturdier than most wood windows, our windows will provide many years of optimal performance.
Virtually no maintenance – Since our reinforced vinyl material doesn't rot, mold, grow fungus, or become infested with termites, you won't have to worry about doing any regular maintenance, making these windows hassle free.
Better home energy efficiency – The reinforced vinyl frames, heat reflective glass coatings, proprietary insulating gas blend, and triple weather stripping of our windows will all help minimize heat exchange into and out of your home. A more stable indoor temperature means you may even enjoy lower monthly utility bills as less strain will be placed on your heating and cooling unit.
Customizability – You'll have different hardware, interior, and exterior color options, as well as different grid options, available to you, so you can design your windows to perfectly suit your preferences.
A Comprehensive Installation Process
The installation of any bay or bow windows you order will be completed by our highly-trained professionals. Following our set procedures and exact processes, our experts will work diligently to install your windows correctly. Once complete, a production manager will check everything to ensure a job well done. You can also count on assistance after installation as well because our windows are backed by a 50-year warranty.
Contact ABC Seamless of Nebraska today if you would like to learn more about the top-of-the-line bay and bow windows we can install on your home. When you call, be sure to ask about the excellent financing options we have available for homeowners in Omaha, Lincoln, North Platte, Wood River, and other cities throughout Nebraska.