Choose a Steel Soffit and Fascia to Help Protect Your Residence in Omaha, Lincoln, North Platte,  Wood River, or Elsewhere in Nebraska from the Elements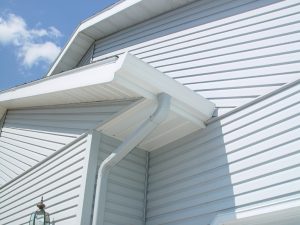 With a steel soffit and fascia from ABC Seamless of Nebraska, you can help safeguard your home from wind, water, and hail damage. Our steel soffits and fascia outperform other vinyl and aluminum products on the market when it comes to durability and moisture protection because they're manufactured from 28-gauge, hot-dipped, G-90 galvanized steel. This means not only will you benefit from unmatched weather protection along your roof's edges and overhangs, but you will also help keep your attic free from mold, mildew, and rot.
Added Benefits
Protection from Mother Nature isn't where the benefits of a steel soffit and fascia from ABC Seamless of Nebraska end, however. You can also look forward to:
Virtually no maintenance – Thanks to their steel material, these products require no upkeep and won't crack, rot, warp, or peel. They also won't fade and are easy to clean, saving you that much more time on yearly maintenance.
Better curb appeal – With a steel soffit and fascia installed on your overhangs and roof edges, you'll enjoy a sleek, finished looked for your home. They will be entirely seamless as well for a smooth appearance all around.
Excellent color options – These products are available in 25 beautiful colors, ensuring you'll find an option that matches or complements your roof as well as the entirety of your home.
For installation, we'll do nothing less than a perfect job. Under the leadership of a certified ABC Seamless production manager, a team of our highly trained installers will custom-cut your soffit and fascia from steel coils to ensure they perfectly fit your home's dimensions. Then, we'll install them with precision, screwing everything into place, rather than stapling, to ensure they'll remain attached even in high winds. And you'll also be covered by our lifetime product warranty, so you can feel safe knowing your investment in your home is protected. After you've done business with us and have your products installed, you'll understand why we have an A+ rating with the Better Business Bureau.
For additional information about the strong and long-lasting soffit and fascia products we have available for homeowners in Omaha, Lincoln, North Platte, Wood River, and all other cities throughout Nebraska, contact ABC Seamless of Nebraska today. We also have helpful financing options available for qualified homeowners.