Seamless House Gutter Products for Homeowners Throughout Omaha, Lincoln, North Platte, Wood River, and All of Nebraska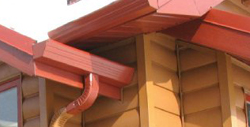 A durable house gutter can help reduce moisture damage to your home's walls and foundation by carrying away the rain water that falls on your roof. With gutters from ABC Seamless, your home can have the ultimate in protection. Unlike most other gutter installers, we don't use aluminum or vinyl products. Instead, we use 28-gauge galvanized steel – a material that is not only much stronger than plastic but is also resistant to rusting, warping, cracking, expanding, and contracting.
Other Amazing Benefits
In addition to incredible strength, there are many other benefits to installing an ABC house gutter. These include:
Seamless construction – We custom cut our gutters to the appropriate length for your house, so they will be free of seams and will perfectly fit your home.
Greater water capacity – Our gutters can handle up to 23 percent more water than most conventional gutters, reducing the risk that your gutter will flood during heavy rainstorms.
A range of colors – With an ABC house gutter, you will get to choose from a wide selection of colors to help your gutter beautifully blend into your home's décor.
A streamlined appearance – We use hidden gutter hangers, which not only help your gutter system look cleaner, but also are stronger than traditional house gutter fasteners.
To learn more about gutters for your house in Omaha, Lincoln, North Platte, Wood River, or any other city in Nebraska, please contact us today. We also install roofing, exterior siding, windows, doors, sunrooms, and more.