Durable Seamless Steel Siding for Your Home in Omaha, NE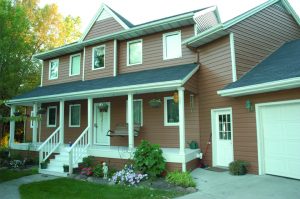 There are a number of products to choose from when having new home siding installed, but seamless steel siding from ABC Seamless of Nebraska is by far the best choice. Our siding is expertly crafted from premium materials, including heavy-duty 28-gauge steel, and custom-cut to fit your home perfectly without any seams. This not only creates a beautiful streamlined appearance, but also protects your home against water damage, rodent infestation, and insect intrusion. Since our founding in 1989, we've dedicated ourselves to helping Omaha, Nebraska, homeowners find long-lasting solutions to all of their exterior remodeling needs and we'd love to put our expertise to work for you.
Benefits of Seamless Steel Home Siding
When you choose to have our seamless steel home siding installed, you'll enjoy many advantages, including:
Low-Maintenance Upkeep
Our home siding is highly durable and will never peel or fade, so you can throw away your paintbrush and forget about grueling maintenance.
Extreme Durability
The seamless steel siding that we install is built to provide a lifetime of protection for your home. Unlike vinyl siding, it resists warping, bending, and becoming brittle, and will stand strong in the face of extreme weather, including hailstorms. Plus, thanks to its seamless design, our home siding does not have any vulnerable gaps that can lead to moisture intrusion.
Better Curb Appeal
Our seamless siding offers a gorgeous appearance without any unsightly gaps detracting from its beauty. It also comes in a wide selection of styles and colors, so you can customize your new home siding to suit your preferences.
Learn More
Contact ABC Seamless of Nebraska today to schedule a free consultation at your home in Omaha, NE. We would be happy to answer your questions and help you find the perfect siding for your home.