Attractive Steel Siding for Residents of Omaha, Lincoln, North Platte, Wood River, and throughout Nebraska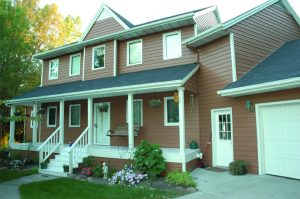 Steel siding from ABC Seamless of Nebraska provides homeowners with an extraordinarily effective means of protecting their homes from wind, hail, and water damage. Unlike other siding products on the market, our siding can withstand extreme weather conditions without warping, fading, cracking, or peeling. Plus, it never needs to be painted, sealed, or repaired. When you want siding this durable, let ABC Seamless of Nebraska be your company of choice. Since 1972, we have installed steel siding on thousands of homes in the area, and our A+ rating from the Better Business Bureau is proof of our commitment to customer satisfaction.
Benefits of Choosing Us
When you choose ABC Seamless of Nebraska as your siding contractor, our highly trained and certified installers will come out to your home and cut your steel siding onsite to your home's exact dimensions for a perfect custom fit. And, because our siding lacks seams, the risk of wind, driving rain, or snow entering your home is significantly minimized. Additionally, seamless siding gives your home's exterior a clean, uniform appearance for added curb appeal. Other benefits of our steel siding include:
Remarkable energy efficiency – Our siding's top-level insulation and ribbons of steel work together to reduce air infiltration to help you better manage the temperature in your home. This takes the strain off your HVAC unit, which can lead to lower energy bills.
Unparalleled protection – Solidly secured with screws, our steel siding won't blow off or buckle in powerful winds and will serve as a bulwark for your home.
A wide range of styles – With a multitude of styles to choose from, including horizontal, vertical board and batten, or log siding, you're sure to find one that suits your design preferences.
What's more, you'll have peace of mind knowing that your new steel siding is backed by a lifetime warranty. Plus, when you choose ABC Seamless, you'll be partnering with one of the Top 500 remodeling firms in the nation, as ranked by Qualified Remodeler, an influential industry publication.
For more information on the benefits of ABC Seamless steel siding, contact ABC Seamless of Nebraska today. Also, be sure to ask about our in-house financing options available for qualified residents of Omaha, Lincoln, North Platte, Wood River, and other areas throughout Nebraska.