Siding Installation Specialists Serving Homeowners in Omaha, NE, and The Surrounding Communities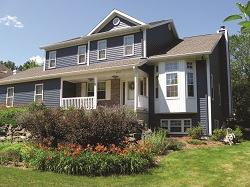 When homeowners want the finest siding installation services in the Omaha, Nebraska, area, they turn to ABC Seamless of Nebraska. Compared to the run-of-the-mill pre-cut vinyl cladding you'll receive from most other siding companies, our custom steel siding offers far superior beauty and protection for your home. While other companies tout "seamless" siding that simply lacks seams up to a certain length, our siding truly has no seams, which makes it look more appealing than ordinary siding, and minimizes air and water infiltration to safeguard your residence.
By choosing siding installation by ABC Seamless for your Omaha, NE, home, you'll benefit in other ways as well. Advantages include:
Diverse design choices – You'll get to choose from more than 30 attractive color options to select the combination of siding, soffit, and fascia colors that best express your personal style. Plus, we never discontinue any styles or colors, so if you ever need additional siding that matches the type you choose for this siding installation, we can always meet your needs.
Lifetime protection – We back our siding with a limited lifetime warranty, which covers fading, chipping, bubbling, and peeling. That way, you can have complete confidence in the security of your investment.
To discuss your siding installation needs with one of our knowledgeable exterior renovation consultations, contact ABC Seamless today to schedule a free in-home consultation. Founded in 1989, we have a long, proud history of serving homeowners throughout the Omaha, NE, area.