Siding Installation Specialists Serving Homeowners in Omaha, NE, and The Surrounding Communities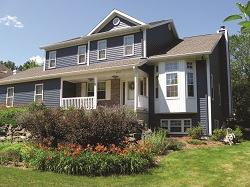 When homeowners want the finest siding installation services in the Omaha, Nebraska, area, they turn to ABC Seamless of Nebraska. Compared to the run-of-the-mill, pre-cut vinyl cladding you'll receive from most other siding companies, our custom steel siding offers far superior beauty and protection for your home. While other companies tout "seamless" siding that simply lacks seams up to a certain length, our siding truly has no seams, which makes it look more appealing than ordinary siding and minimizes air and water infiltration to safeguard your residence.
The Benefits of Turning to ABC Seamless for Steel Siding
By choosing siding installation by ABC Seamless of Nebraska for your Omaha, NE, home, you'll benefit in other ways as well. Advantages include:
Diverse design choices – You'll get to choose from more than 30 attractive color options to select the combination of siding, soffit, and fascia colors that best express your personal style. Plus, we never discontinue any styles or colors, so if you ever need additional siding that matches the type you choose for this siding installation, we can always meet your needs.
Lifetime protection – We back our siding with a limited lifetime warranty, which covers fading, chipping, bubbling, and peeling. That way, you can have complete confidence in the security of your investment.
Professional Installation, Dedicated Customer Service
At ABC Seamless of Nebraska, we're committed to providing truly professional installation and exceptional customer service alongside our premium products. All of our production managers undergo special certification training to ensure flawless craftsmanship on every siding project we perform. And each of our installers specialize in one particular product, so your siding installation specialist only installs siding, making them an expert. We consistently use quality control checklists to uphold stringent standards, and our production managers always perform a final walkthrough to ensure everything's up to our world-class standards at the end of the day. It's easy for us to back our work with such strong warranties because we truly stand by the flawlessness of our workmanship and installation.
When it comes to our customer service, we strive to offer personalized attention in order to truly help you find solutions to your home improvement needs—not just sell products. We also offer in-house, no-interest financing to make things as easy as possible for you; we're a one-stop shop for your siding installation project, helping you avoid having to deal with a third-party financer. We've maintained a consistent A+ rating with the Better Business Bureau and a spotless reputation all across the nation, so you can trust that partnering with us for your siding installation will be the best decision you ever made for your home and a super simple process.
Let's Get Started
To discuss your siding installation needs with one of our knowledgeable exterior renovation consultations, contact ABC Seamless today to schedule a free in-home consultation. Founded in 1989, we have a long, proud history of serving homeowners throughout the Omaha, NE, area.