Siding for Bellevue, Nebraska, Homeowners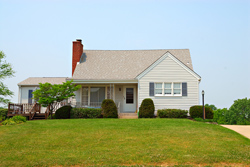 The typical residence with vinyl siding in Bellevue, NE, has about 130 siding seams, which means that house has at least 130 openings for winds, rain, and insects to invade the inside of the home and cause expensive damage. So, instead of choosing a siding product that could cost you more in the long run, why not choose seamless siding from ABC Seamless? Our siding product will be custom cut to the exact length necessary, eliminating the unsightly seams that could leave your home more vulnerable to Mother Nature.
Our seamless house siding offers Bellevue residents a multitude of other benefits, including:
Durable construction – Our siding is made with 28-gauge steel, which is stronger than any vinyl, wood, or cement fiberboard siding product on the market.
A plethora of aesthetic options – With more than 27 colors and 15 styles available, you can choose siding that looks great with your window frames and overall character of your home.
Maintenance-free protection – You'll never have to paint, stain, seal, or scrape our siding and it will look beautiful for years to come.
Long-lasting reliability – When you purchase your siding from ABC Seamless, we'll provide a lifetime warranty that covers rusting, cracking, fading, chipping, and even damage from hail.
Along with providing siding for Bellevue, Nebraska, homeowners, we also install soffit and fascia, gutters, steel roofing, replacement windows, and sunrooms.
To learn more about siding for Bellevue residents or any of our other outstanding products, contact ABC Seamless today. We'll provide a free, no-obligation quote and be happy to answer any questions you may have.