Sunrooms for Bellevue, NE, Residents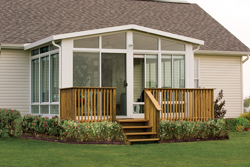 ABC Seamless offers sunrooms for Bellevue, Nebraska, residents who want a place to enjoy the beauty of the outdoors from within the comforts of the home. Our durable, attractive sunrooms allow homeowners to stay connected to Mother Nature without facing oppressive summer heat, bone-chilling winter cold, heavy rain or snow, or annoying insects. Plus, building a sunroom on your home will help to increase its functional living space, providing the perfect area for a hot tub, home office, lounging area, or exercise room. No matter how you use your sunroom, it is certain to become the favorite gathering spot for you, your family members, and your friends.
Our sunrooms for Bellevue, NE, homeowners feature a plethora of benefits, including:
A standing roof seam that prevents leaks caused by seasonal contraction and expansion
ProTech™ termite- and ant-resistant deck paneling
Exclusive TEMKOR polymer panels that are fade-, scratch-, and dent-resistant
An internal weep system that drains water away
When you choose a sunroom from ABC Seamless, you can expect nothing less than outstanding quality. Our sunrooms for Bellevue homes are made by TEMO, one of the leading sunroom companies in the USA, and are constructed by highly skilled installers with many years of experience. So, you can rest assured that when you invest in a sunroom from ABC Seamless that it will last for years to come.
Contact us today for more information on our sunrooms for Bellevue homeowners. Additionally, we offer siding, replacement windows, and more for Bellevue residents.