Siding Contractor Serving Bellevue, Nebraska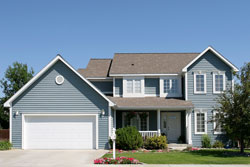 Are you looking for a professional siding contractor in the Bellevue, NE, area? One name that local residents have trusted since 1989 is ABC Seamless, a siding installation company that offers a custom-made siding product that is truly seamless. While most homes that have vinyl siding have at least 130 seams, we custom manufacture our siding so that it is completely seamless. Our house siding is cut to the exact length necessary to reach from corner to corner, ensuring that there are absolutely no ugly seams on your home. When you choose to wrap your home in our beautiful, seamless siding, not only will you enhance the curb appeal of your house, but you'll also help protect it from wind, rain, and snow intrusion.
Our highly durable siding offers many benefits, including:
28-gauge steel construction – This material is much stronger than vinyl, wood shake, and cement fiberboard, and won't warp, fade, crack, peel, or expand and contract.
Maintenance-free protection – You'll never need to spend your weekends painting, scraping, or sealing your siding again when you choose our seamless siding – simply use your garden hose on an occasion to rinse your siding.
A multitude of colors and styles – Choose from 27 stunning colors and 15 beautiful styles to complement the personality of your home and your unique tastes in aesthetics.
Incredible warranty – We will cover your siding for the life of your home; this is simply the best guarantee available in the siding industry today.
Our longstanding commitment to installing exceptional products and providing the best service possible has helped us to earn an A+ rating from the Better Business Bureau as well as several accolades, including a designation as one of the Top 500 home improvement companies in the United States by Qualified Remodeler magazine.
To learn more about why we are the siding contractor of choice for homeowners throughout the Bellevue area, contact ABC Seamless today.