House Siding for Residences in Bellevue, NE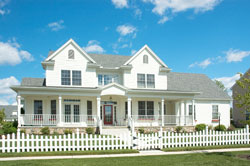 Do you need new siding for your house in Bellevue, Nebraska? If so, there is no one better for the job than ABC Seamless. That's because we provide seamless steel siding – the last siding your home will ever need. What makes our siding truly seamless is that we don't use pre-cut panels. Instead, we bring our steel coils to the job site and custom cut and shape the material to best fit the specifications of each unique home.
When it comes to your home, you should invest in siding with unmistakable value. The value of house siding from ABC Seamless is apparent from its:
Lasting strength – Steel is incredibly durable and won't expand and contract like vinyl. Unlike siding made from other materials, steel siding can actually last indefinitely.
Aesthetic options – Steel siding can look just as beautiful as siding made of other materials, and you can choose from a wide variety of colors and styles.
Increased curb appeal for your home – Replacing your house siding is one of the best ways to increase its curb appeal, which can also boost its overall resale value.
Little to no maintenance – Because our siding won't warp, splinter, or fade, you won't have to worry about repainting it or making repairs.
Outstanding warranty – Our transferable lifetime warranty covers rusting, peeling, fading, cracking, and even hail damage, so you can rest assured your investment is protected.
The expert installers at ABC Seamless have been providing Eastern Nebraska homes with house siding since 1989. For more than 20 years, we have used our high-quality materials and have focused on helping our customers find solutions, not just products, for all of their home improvement needs.
Contact ABC Seamless today for more information about the house siding we offer Bellevue, NE, homeowners.