Vinyl vs Steel Siding
Vinyl vs. Steel Siding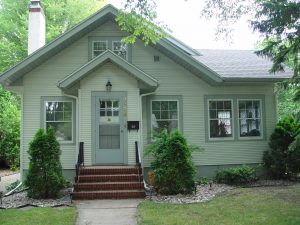 If you're reading this, it's probably because you've noticed that your home's siding needs to be replaced. Homeowners have a variety of options when it comes to siding replacement, from material to style to color, but you should know that not all siding is created equal. Many factors should be considered when comparing siding options, and we're here to help you navigate the process of selecting the right siding for you. We'll be comparing the merits of vinyl vs. steel siding.
How Does Vinyl Siding Stack-Up to Steel?
To determine whether vinyl or metal siding is best for your home, it's best to consider all of the factors that will affect your home's performance and longevity. So, in addition to wanting siding that looks stunning and complements your home's aesthetics, you also need a system that can perform in all types of weather. Here's how the two materials stack up.
Aesthetic Appeal
Traditional vinyl siding is easy enough to come by since it is cheap and widely available. However, vinyl siding almost exclusively comes in large boxes of pre-cut pieces, meaning the panels must be cut and overlapped to fit your home. This creates unsightly seams, as many as eight to nine per 100 sq. ft. Seams are unpleasant to look at and dimmish your home's appearance. On the other hand, seamless steel siding eliminates these unsightly gaps by being cut precisely to fit the exact dimensions of your home. This creates a sleek, uniform appearance that looks great from any angle!
Durability
Another downside to vinyl siding's low production costs is that it results in a subpar material that is not ideal for operation in all climates. Drastic seasonal changes, like those common in Nebraska, cause the material to expand and contract repeatedly. Nearly all vinyl siding, while looking fine at first, is prone to fading, cracking, and warping over time. Metal siding does not experience these flaws. Our seamless steel siding is constructed from 28-gauge steel that outperforms both wood and vinyl in all conditions and can last for years without failure.
Efficiency
If your energy bill has you in the dumps, your existing siding could be to blame. The overlapping seams that are necessary to vinyl siding not only look bad, but they also create weaknesses in the siding's integrity. It is not uncommon for air and moisture to leak through these seams, forcing your HVAC system to work much harder to keep you comfortable. If you'd like to improve your home's energy efficiency, look to seamless steel siding. Without the need for seams, our siding creates a sealed perimeter around your home that won't expand or contract, regardless of the temperature outside.
Maintenance Requirements
The forces of nature are not kind to traditional siding materials such as vinyl and wood. It's not uncommon for seasonal changes to cause this siding to warp, rot, and crack over time, while UV exposure from the sun dries out the pigment, fading the material substantially. Metal siding won't rot or crack, and never needs to be repainted, resealed, or repaired.
Contact the Area's Siding Experts
With so many advantages over vinyl siding, seamless steel siding should be a no-brainer for your home renovation! By investing in seamless steel siding from ABC Seamless of Nebraska, you can rest easy knowing your home is more efficient AND beautiful than ever before, with protection that will last for a lifetime. Contact us today to learn more about our exciting products and services for Nebraska homeowners.