Why Steel Siding is the Best Option for Homeowners in Papillion, NE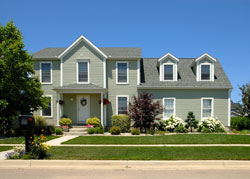 If you need beautiful siding for your home in Papillion, Nebraska, then turn to ABC Seamless, a home improvement company that has been proudly serving homeowners throughout the Greater Omaha area since 1989. Over the decades, we have built a solid name as the leading installer of steel siding. You can rest assured that when you hire us, our team of highly experienced professionals will get the job done properly, so your siding will look great and stand the test of time.
There are several distinct advantages to choosing our steel siding. For one, our product is stronger than just about any other home exterior cladding product on the market. For example, consider vinyl – one of the most common siding materials used today. Vinyl warps, cracks, peels, and can even catch fire. Not our steel siding. Ultimately, you need to ask yourself what you would rather use to protect your home: plastic or steel?
There are many other benefits to choosing our siding. Our seamless siding will reduce air infiltration into your home, helping to keep its internal temperature more stable throughout the year and potentially lowering your energy bills. Our siding is also more attractive than vinyl siding, which leaves about 130 seams or splices on the average home. To further enhance the beauty of your home, we offer our siding in more than 27 beautiful colors and 15 stunning finishes.
We are committed to installing the best products and providing customer service that is truly second to none. To ensure you are completely happy with the work that we perform, we will provide you with a limited lifetime warranty – a guarantee unmatched by virtually any other company in the siding industry. Contact ABC Seamless today for more information about the siding we install in Papillion, NE.