Outstanding Siding for Homes in Papillion, NE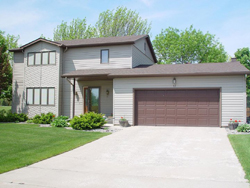 ABC Seamless is proud to offer state-of-the-art siding for homeowners in Papillion, Nebraska, who want to improve the energy efficiency and curb appeal of their homes. Our seamless siding helps reduce air infiltration into the home, keeping its interior temperature more stable throughout the year without adding undue strain to its HVAC system. Not only is our siding energy efficient, but thanks to its custom, seamless construction, it is also more beautiful than vinyl siding and other pre-cut products on the market.
There are many reasons to choose our siding:
Is made from premium-grade steel, which is stronger than other siding materials, does not expand or contract in extreme temperatures, and won't warp, fade, peel, or crack
Comes in more than 27 colors and 15 finishes to complement the look of your Papillion home
Provides maintenance-free beauty – all you need to do is simply rinse the siding off with a garden hose every now and then
We are so confident in the reliability of our products and the skill of our factory-trained installers that we will provide you with a limited lifetime warranty that covers rusting, fading, and even hail damage. Our paramount goal is to install siding that will enhance the beauty of your home, help you save money on your energy bills, and stand the test of time. Our unwavering commitment to providing products and services of unmatched quality has helped us to maintain an A+ rating with the Better Business Bureau and a Top 500 designation from Qualified Remodeler magazine.
For more information about the siding we install in Papillion, NE, contact ABC Seamless today.