Siding Company – Hasting, NE
The Premier Siding Company in Hasting, NE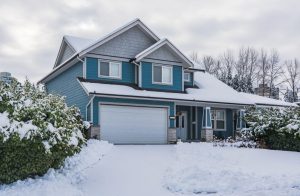 Siding covers much of your home's exterior and serves as a barrier against wind, rain, vermin, and other elements. Unfortunately, traditional siding replacement materials need ongoing upkeep, and vinyl siding typically has 130 unsightly seams. Fortunately, seamless steel siding from ABC Seamless of Nebraska is a superior choice for homeowners in Hasting, Nebraska. We have been the siding company of choice for homes in Nebraska for many years, and we are confident that after you see our products and installations, you'll understand why.
Superior Siding Options
When you choose us as your siding company, you can expect nothing less than the best for your property. We use 28-gauge steel for all of our siding, which is a lot more durable than the vinyl siding you'll find elsewhere. In addition, all of our house siding is cut specifically to  fit your house, coated to prevent chipping or fading, and offered in over 27 colors and 15 different styles, letting you design a look you'll adore for years. Pick one of the following possibilities:
Seamless steel siding
Seamless steel log siding
Steel soffit and fascia
Whatever style of home siding you choose, you can rest assured that it will be installed by a team of true professionals. For added peace of mind, our siding comes with a fantastic, limited lifetime warranty that covers fading, peeling, corrosion, and even hail damage.
Get Started Today
If you're ready to give your Hasting, NE, home an upgrade that increases its value and durability, contact ABC Seamless of Nebraska right away. We'd be happy to address any questions you may have about our products and services and demonstrate why Nebraska homeowners choose us as their siding provider.