Metal Siding – Hasting, NE
Upgrade Your Hasting, NE, Home with Metal Siding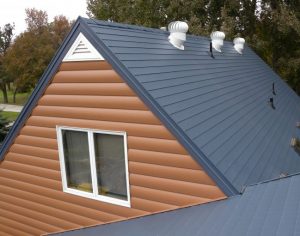 Is the siding on your house starting to show signs of wear and tear? You're not alone if you've seen warped panels, fractured seams, rotting edges, or faded color. Many exterior home components, like siding, are put to the test in Nebraska because of the state's severe seasonal changes, from simmering hot summers to frigid winters. Traditional materials such as wood and low-cost vinyl are just not suitable for all weather conditions. Fortunately, there is a suitable solution: ABC Seamless of Nebraska's metal siding! Our metal siding is designed to operate in every condition, so if your Hasting home's beauty is being harmed by deteriorating siding, we're here to help.
Why Our Siding is Superior
You may be wondering what makes metal siding superior to the siding at your local hardware store. Our metal siding offers significant benefits over wood and vinyl, including:
Durability – Fabricated from hard-wearing 28-gauge steel, our seamless steel siding will not fade, rot, or crack over time and never needs repainting or resealing.
Breathtaking beauty – Vinyl siding seams not only limit performance, but they also hinder its appearance Fading and rotting wood are in the same boat. Our seamless steel siding is made to meet the exact measurements of your home without seams and comes in a variety of colors, ensuring that your home looks better than ever.
Improved energy efficiency – Vinyl siding requires those overlapping seams, which provide opportunities for air leakage and weather penetration. Our metal siding is far better at insulating your home and protecting it against the elements.
Trust the Experts at ABC Seamless of Nebraska
There's no reason to put up with rotting siding. We can assist you in transforming your Hasting, Nebraska, home into a stunning property that you will enjoy for many years to come. With ABC Seamless of Nebraska, you'll get the best-performing metal siding on the market installed by the area's premier siding experts, as well as the individualized attention our clients have come to expect.
We've been serving Nebraska homeowners since 1972 and can't wait to provide your home with the benefits of seamless steel siding. Contact us today.