The Advantages of Having Metal Roofing on Your Council Bluffs, IA, Home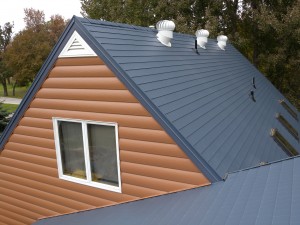 Why should you have metal roofing installed on your Council Bluffs, Iowa, home rather than other types of roofing? For one, having a metal roof can help you save time and money on maintenance. Other types of roofing, like asphalt or wood, wear out over time and eventually need to be repaired or replaced, which can cost thousands of dollars. But, a durable roof constructed of metal can last the life of a house, making it a wise choice for any homeowner.
Durable metal roofing can also help protect your Council Bluffs, IA, home better than other types of roofing. For example, unlike a wood shake roof, a metal roof can resist fire. And, compared to an asphalt roof, a metal roof can provide superior impact resistance against hail and wind-swept debris. Furthermore, a metal roof can withstand higher wind speeds better than other roofing types, which will help prevent your roof from blowing off during extreme weather events.
If you would like metal roofing for your home that is superior to asphalt or wood roofing, turn to ABC Seamless of Nebraska. Made from heavy-gauge, G-90 galvanized steel, our beautiful roofing systems provide unmatched resistance against impact damage and can withstand wind speeds of up to 160 mph. What's more, our steel roofing systems require virtually no maintenance, making it the last roof you'll likely ever need. And, you can rest assured that your investment will be protected because we back all of our roofs with a transferrable lifetime warranty.
To schedule a free consultation to learn more about the benefits of metal roofing for your Council Bluffs, IA, residence, contact ABC Seamless of Nebraska today. Be sure to ask about our great financing options.