How Do I Know My Replacement Windows Will Provide High Energy Efficiency for My Lincoln, NE, Home?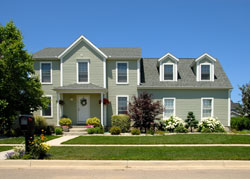 Many Lincoln, Nebraska, homeowners know they want replacement windows that provide good energy efficiency for their homes; however, they might not be aware of exactly what makes windows energy efficient. Just because a retailer or contractor tells you their windows are energy efficient, that doesn't necessarily make it so. When the time comes to replace your home's windows, it's important to be aware of the elements that contribute to a window's energy efficiency, so you can invest in the replacement windows that will be most beneficial to you in the long run.
One of the most vital components of replacement windows is the glass. You'll want to find windows with a high R-value (insulation value). A window's glass pack can affect its overall insulation in several ways. First, the window will use a spacing system to separate the glass panes and interrupt heat flow. Second, many manufactures will use an inert gas filling in between the glass panes; this gas is denser than air, which helps to further resist the infiltration of heat. Finally, Low-E coatings can be used on the glass to reflect ultraviolet light, keeping your home cool in the summer and warm in the winter.
The frames of your replacement windows will also contribute to the overall R-value and so will the frames' manufacturing. Windows that are installed with screws, caulk, or other sealers can loosen over time and allow air to leak in around them. A good sign that a window is built to last is that the sashes and frames are fusion welded – this creates a single window unit that's airtight.
No replacement windows can truly be energy efficient, however, unless they are properly installed by an expert. If you're ready to replace the windows of your Lincoln, NE, home, contact the professionals at ABC Seamless. Not only do we provide our customers with top-notch, ENERGY STAR®-rated window products, but we install them with outstanding service. We'll ensure your replacement windows are custom made to the exact specifications of your unique home for a seamless fit that improves your home's energy efficiency for years to come.