The Ultimate House Siding Option in Omaha
For those thinking about updating their home exteriors in Omaha, there are dozens of house siding options available. With so many possible combinations, it can be difficult for homeowners to narrow down the best siding options, especially in a sector of the market that is constantly updating and always promising the next best thing. What was touted as the best option just ten years ago can now seem obsolete. Homeowners trying to decide on the best house siding option should consider one that has proven itself for decades: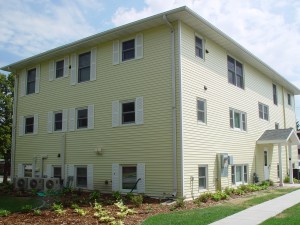 seamless steel siding.
Deciphering the Hidden Costs
Most other house siding options have notable drawbacks to their supposed strengths. Steel siding has the answers to many of the problems that arise with other siding choices.
Lowest cost around – There are indeed siding options that are cheaper than steel siding, but you should consider what the long-term costs are. Cheaper options like vinyl won't come close to lasting as long as steel siding, and almost no other siding can offer similar lifetime warranties to ours. What you save in upfront costs will often be later spent on replacement or repairs.
Off-the-shelf convenience – True, many siding options can be acquired easily from warehouses or home improvement stores. But our steel siding at ABC Seamless of Nebraska is custom-made at your house to your home's dimensions. Constructed completely seamlessly, it's the best protection your home can have.
Enhanced durability – While some house siding options tout their long-term durability, none last as long, with as easy ownership, as steel. Some hearty options, like fiber cement siding, will indeed last a long time, but only with careful maintenance and ongoing refinishing and repainting. Steel will outlast these options, retaining its luster and protective qualities for many years with only minimal upkeep.
The Customized Solution
If you're interested in giving your home a siding upgrade that will be durable, attractive, easy-to-own, and completely custom, the only choice is steel siding. ABC Seamless of Nebraska has been helping Omaha homeowners realize their home improvement dreams for decades. To find out more or to arrange a risk-free consultation, contact us today.