Best Siding for a House in Omaha, NE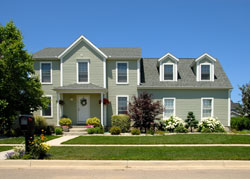 Siding can make or break both the curb appeal and energy efficiency of your home. Bubbles, blisters, and faded colors can make your home appear old and outdated, while cracks and loose siding can lead to drafts and increased energy usage as your HVAC system struggles to maintain a comfortable temperature inside your home. Not only that, but the seams that connect your siding can be an eyesore and expose your home to the elements. Whether you're building a new home or need to give your current home's exterior a much-needed update, it's important to choose the right siding if you want your home to look great and perform optimally. But with so many siding options available on the market, how do you know which siding will be best? At ABC Seamless of Nebraska, we make that decision easy for homeowners in Omaha and the surrounding communities by offering seamless steel siding.
Why Choose Seamless Steel Siding?
Unlike other products on the market, our siding lacks seams, which helps prevent wind, rain, snow, and pests from entering your home and causing significant (and expensive) damage. What's more, our seamless siding gives your home's exterior a flawless, clean appearance that adds to its curb appeal. Additional advantages our seamless steel siding has over other products includes:
The ability to stand up to extreme weather conditions without warping, fading, cracking, or peeling
Never needing to be painted, sealed, or repaired
Availability in more than 27 colors and 15 styles
Limited lifetime warranty protection that covers rusting, fading, peeling, and even hail damage
To learn more about our seamless steel siding, contact ABC Seamless of Nebraska today. We have been installing our siding on homes throughout Omaha, NE, and the surrounding areas since 1972 and have an A+ rating from the Better Business Bureau that is a testament to our commitment to our customers.