Your Source for the Best Exterior Siding in Lincoln, NE
Is it time to replace the old exterior siding on your home in Lincoln, NE? Are your old cedar clapboards rotting and splintering? Is your vinyl cladding warped and moldy? Maybe you need to turn to the superior exterior siding: seamless steel. At ABC Seamless of Nebraska, we've been helping homeowners in Lincoln, NE for over 30 years. Our seamless steel siding offers many strengths compared to other exterior siding options.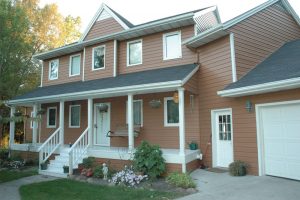 The Long Term Exterior Siding Choice
The most well-known quality about steel siding is its dependability. In fact, you can find steel siding that's been on houses for over 20 years looking like the day it was installed. At ABC Seamless of Nebraska, we believe in the strength of our steel exterior siding so much that we offer a lifetime, non-prorated, transferable warranty. That's a guarantee so strong that we'll honor it even if you sell your house.
Our warranty promises that your new steel siding won't chip, fade or peel. That means when you go with steel siding, you don't have to worry about costly repainting and refinishing. You can trust that your home will look as great as the day we install your siding.
And with products from ABC Seamless of Nebraska, your siding is unique to your home, because we fabricate it on site. Your new steel exterior siding will be a perfect fit to your home, offering a level of customization that is impossible for other types of siding. Not only that, but because we make your siding onsite from a continuous roll of steel, there are absolutely no unsightly seams on the exterior of your home. Best of all, this lack of seams means that there are far less places for mold, mildew, insects, and pests to penetrate your home's siding.
The Seamless Exterior Siding Solution
If you're interested in getting the best exterior siding for your home in Lincoln, NE, contact ABC Seamless of Nebraska. We'd love to tell you more about our products or to set up a consultation at your home.