The Ultimate House Siding for Residents in Lincoln, NE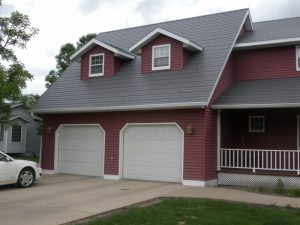 If you're a resident of Lincoln, Nebraska, who is looking for new house siding, you've probably seen the numerous options available to you. Yet there's one option that has proven itself again and again: seamless steel. At ABC Seamless of Nebraska, we've been fabricating and installing steel house siding in Lincoln, NE for decades. We believe in seamless steel so strongly that we back up our products with lifetime non-prorated transferable warranties, ensuring that your home will look amazing for years to come.
The House Siding That Stands the Test of Time
You might be wondering what makes steel house siding so superior compared to other varieties. Besides the industry-leading warranties, some of steel siding's other advantages include:
Totally seamless — The siding we use is made without any seams at all. This prevents the unsightly gaps that can occur over time on other siding options. More importantly, it also stops pests and water from getting to the frame of your home.
Completely custom — Our steel siding is fabricated onsite to your home's exact dimensions, making it a perfect fit. It's also available in dozens of colors to fit your tastes.
Proven durability — Steel house siding is guaranteed to last a long time. It is extremely resistant to wind, fire, and hail damage, and most weather-related dangers. Not only that, but our warranties also cover chipping, fading, and peeling, so you don't have to worry about repainting or refinishing your siding for many years.
How Will New House Siding Benefit Your Home?
As a homeowner, you're likely bombarded with advertisements and advice from all sides about the best ways to improve your home. This can be overwhelming at best and downright confusing at worst. For instance, how do you know which upgrades are actually worth the cost, which investments are actually essential to your home, and which are merely advertised as being important?
It's important to do your homework, but keep in mind that you can trust ABC Seamless to have your back—and we highly recommend investing in top-quality siding for your home. Unlike some home upgrades that are merely cosmetic, having new siding installed on your home can offer a number of varied benefits, including:
Long-lasting Protection
Our siding is seamless and crafted from 28-gauge steel, offering the ultimate in home protection. It won't expand and contract like vinyl siding, allowing it to hold up better to the elements. It also offers superb protection from rodent damage, unlike many other siding materials.
Enhanced Curb Appeal
While curb appeal may seem simply cosmetic, it can actually make a huge difference in your home's resale value. And since our siding comes in seven different colors and three wood grain textures, you'll be able to customize it to your unique tastes.
Energy Efficiency
Insulated with foil-backed fan-fold insulation, our siding can help reduce your home's thermal transfer, saving you money on your monthly energy bills and helping to reduce the strain on your home's HVAC system.
Low Maintenance
Our siding won't fade, warp, peel,
crack, or rot, unlike other siding crafted from vinyl or wood. It's virtually maintenance free, allowing you to spend your time at home—exactly how you'd like—instead of on endless chores.
The Steel House Siding Team You Can Trust
If you're interested in the many benefits of seamless steel siding for your Lincoln, NE, home, contact the team at ABC Seamless of Nebraska today. We'd love to tell you more about the benefits of steel siding or to set up a consultation at your home.