Choose Window Products with Energy-Saving Features and Aesthetic Appeal for Your Home in Lincoln, NE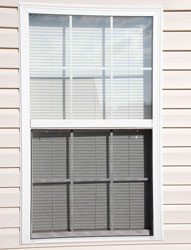 When you choose window products for your home in Lincoln, Nebraska, seek out windows that balance energy efficiency with beauty. Windows serve both functional and aesthetic purposes, and you can certainly find windows that will help you accomplish many different goals you may have for your home. Living in this area, you want window products with a low U-factor, meaning windows that will resist the flow of heat well. That way, they will help keep your home warmer during the winter and cooler during the summer to reduce your energy costs year-round.
Because window products play a big part in determining the overall aesthetic of your home in Lincoln, NE, you want windows with frames that are made of an appealing-looking material that will maintain its beauty throughout the years. Composite frames stand out for their resistance to weather conditions, and how they will resist warping and bending better than frames made of less durable materials, such as aluminum. With composite window products, you'll also never have to perform maintenance on the windows – such as sanding, painting, or staining them – to keep them looking attractive
At ABC Seamless of Nebraska, we offer state-of-the-art composite window products that will help you save money on your monthly energy bills and help make your home more attractive. With features such as triple-paned glass, low-E glass treatments, and argon gas fills, they offer far better insulation than ordinary single-pane windows. Plus, with us, you'll get to choose from a full range of window styles and colors, so you can choose windows that will look stunning on your home. Because they require virtually no maintenance, our windows will maintain their beauty year after year.
To find the ideal replacement window options for your home, contact ABC Seamless today. We proudly serve homeowners in in Lincoln, NE, and all surrounding communities.