How Window Replacement Can Save Money on Energy Bills for Your Omaha, NE, Home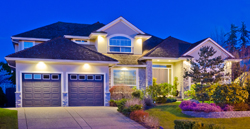 If the time has come to hire a window replacement company in the Greater Omaha, Nebraska, area, then you may want to consider upgrading to new, energy efficient windows. High-performance windows are made with glass that helps prevent heat transfer, have seals that eliminate air-flow through the frames, and are designed to keep the inside of your home more comfortable throughout the year.
How do you know if the windows on your home are inadequate for protecting your Omaha home against expensive heat transfer? One way is to simply determine how old each window is. If your windows are more than a few years old, then they definitely predate many of the latest advances in energy efficiency that have been made in the window industry. Also, if your window frames are made from wood or aluminum, or the glass is only a single pane thick, then they will need to be replaced to help optimize your energy savings.
At ABC Seamless, we offer energy efficient window products manufactured by a leading name in high-performance windows. What makes these windows so great? For one, they are made with a specially engineered polymer composite frames that are 400 percent stronger than conventional vinyl. This polymer composite won't expand or contract like wood or aluminum, creating a permanent airtight seal. Also, each window is made with multiple panes of insulated glass, which will help prevent heat transfer through the windows. Our highly skilled window technicians ensure our windows are properly installed, and we cover our windows with a 50-year transferable warranty for added peace of mind.
For more information about our products and window installation services in Omaha, NE, contact ABC Seamless today.