Sunrooms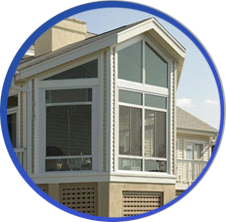 As homeowners, we love nothing better than relaxing in our own backyards. Spending time with Mother Nature is gloriously refreshing, but we know she has her mean side. There's blazing sun in the summer with potential damage from UV rays, rain, wind and temperatures that fluctuate throughout the seasons. Then there's the bugs!  Bees, flies, and mosquitoes can ruin a beautiful day spent outside the home.
If we waited to enjoy the outdoors only on days that provided the perfect conditions, we could probably count the days we truly enjoyed the outdoor experience on one hand.
With a TEMO Sunroom from ABC Seamless, you are able to enjoy the outdoors year-round! Just imagine spending time in the spring without the rain!  Picture a summer on your deck without sunburn! What about cool autumn morning without the cold winds?  Best of all, with TEMO sunroom patio enclosures and additions from ABC Seamless you can spend the winter months enjoying the 'outdoors' without the snow!
Your TEMO Sunroom can be used in a variety of ways!  Use it for:
Playroom for kids
Home Office
Exercise room
Den or Reading room
Arts and Crafts space
Hot Tub or Spa
Entertaining for special occasions
Game room and much more!
For more information on TEMO Sunrooms call (402) 391-4500 in the Omaha area or (800) 825-3360 in Central Nebraska, or visit: