Premium Steel Siding for Homes in Wood River, NE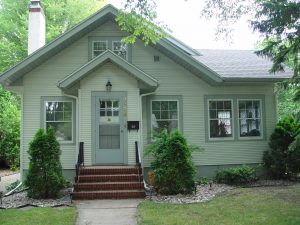 Do you want home siding that is beautiful and easy to care for? Then you want steel siding. At ABC Seamless of Nebraska, we've been beautifying homes in Wood River and throughout the state with our low-maintenance siding for decades.
Unlike other siding options, our seamless steel siding is completely customized to your home and preferences. For example, we custom-cut our steel siding panels to precisely fit the dimensions of your home so there are no unsightly splices where air and water can get in and potentially cause damage.
The seamless appearance of our siding contributes to its beautiful, streamlined appearance and also provides a number of other benefits, including superior energy efficiency. Our seamless steel siding is more insulative on its own than spliced-together siding, but we also install insulation to improve your home's energy efficiency as much as possible.
Remarkable Durability
At ABC Seamless of Nebraska, we've engineered our siding to maintain its good looks for decades. In fact, our steel siding resists rust and corrosion, and it never has to be refinished or repainted, requiring only an occasional rinse with the garden hose to maintain its like-new appearance.
Additionally, steel siding resists damage from fire and impact better than most other types of siding. It's also impervious to mold, mildew, and insects, and it can stand up to high winds. Best of all, we believe so strongly in our steel siding that we back it with a lifetime, transferable, and non-prorated warranty to give you peace of mind.
Improve Your Wood River Home with Our Steel Siding
If you want the best siding you can get for your home in Wood River, turn to the experts at ABC Seamless of Nebraska. Our siding experts can help you design the perfect siding for your home. To find out more or to schedule a consultation at your home, contact ABC Seamless of Nebraska today.