Protect Your Wood River, NE, Home with Seamless Steel Siding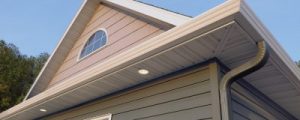 The siding on your house in Wood River, Nebraska, is an integral part of its protection from the elements. But as any homeowner who has had to sand, repaint, or patch old siding can tell you, there's a balance that must be struck between protection, beauty, and required maintenance. However, there is one option that provides outstanding protection, incomparable beauty, and the ultimate in convenience: seamless steel siding.
At ABC Seamless of Nebraska, we've been providing incredible seamless steel siding to homeowners in and around Wood River for over 20 years which means we can give your home the peerless protection it deserves.
The Incredible Advantages of Seamless Steel Siding
You may be wondering what makes seamless steel siding such a great choice. Some of the benefits of this versatile cladding option include:
Unmatched Durability
Compared to most siding options, seamless steel siding has incredible durability and staying power. It naturally resists rotting, mold and mildew, fire, extreme temperatures, impacts, and wind. Not only that, seamless steel siding is not prone to insect infestations or issues caused by other pests. Plus, it won't warp and deform from the weather like some siding options.
Fantastic Finishes
With an incredible base of seamless steel, siding from ABC Seamless of Nebraska is coated in 5-millimeters of PVC for even more protection. The many colors that we offer are guaranteed not to flake, chip, or peel for the life of the siding, which means that your seamless steel siding will look amazing for years to come.
Customized Fit
As you might have guessed from our name, the seamless steel siding we make has no gaps or seams. To accomplish that, all of our siding is custom-fabricated onsite to each home's dimensions.
The seamless nature of our siding means it not only looks great, with no unsightly gaps, but it also offers better protection than traditional siding options since it has fewer places for water to infiltrate.
Turn to Us for Your Wood River, NE, Seamless Steel Siding
To find out more about the many seamless steel products we offer to homeowners in Wood River, contact ABC Seamless of Nebraska today to chat with a siding expert or to schedule a consultation at your home.