Steel Log Siding – Columbus, NE
Steel Log Siding for Your Columbus, NE, Home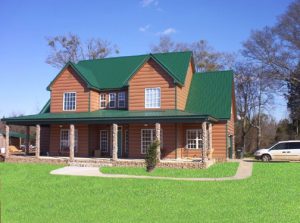 Log siding has long been a desirable feature for homeowners looking to add natural beauty and a cozy, traditional charm to their home. However, this material is not without its shortcomings, namely, the high maintenance costs. Alternatively, steel log siding is an innovative solution for homeowners in the Columbus, NE, area that want the modern benefits of metal without sacrificing the look and feel of wood.
What is Steel Log Siding?
Steel log siding is made of extremely durable, heavy-gauge G-90 galvanized steel to resemble real log siding. Steel is a superior material than wood and vinyl that provides a seamless design in addition to a number of other advantages, such as:
Unmatched Durability
Our metal siding is practically maintenance-free due to its durability. Steel logs will maintain their shape over time, unlike wood and vinyl, which are both extremely prone to warping, rotting, and breaking. The logs' color won't deteriorate or fade, and they won't expand as a result of changes in humidity and temperature, which makes them perfect for Nebraska's extreme seasonal variations.
Energy Efficiency
ABC Seamless incorporates insulation and foam-backed forms into our steel log siding panels, boosting their thermal performance during any season. That means comfortable temperatures in your home with less strain on your HVAC system—and lowered energy costs!
Full Customization
With steel log siding, you have the performance advantages of metal as well as the opportunity to enhance the curb appeal of your home by giving it a log cabin appearance. Siding is available from ABC Seamless in a variety of two-tone, high-definition, and woodgrain colors.
Expert Installation for Seamless Home Improvement
Deciding to install steel log siding is an investment in the beauty and longevity of your home, and when you choose ABC Seamless of Nebraska, you can rest assured that our experts will make the job last. We ensure the logs fit perfectly on your home, cutting the siding at onsite and screw-securing it to your home so that it will stand up to strong winds. We provide a lifetime product warranty on all our steel log siding and a level of service that has earned us an A+ rating with the Better Business Bureau. Contact us today to learn more about how our steel log siding can transform your home. We proudly serve Columbus, NE, and surrounding areas.