Siding for Homes in Omaha, NE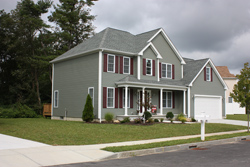 When the time has come to install new siding on your home in Omaha, Nebraska, there is one name that local residents have trusted since 1989 – ABC Seamless. We install siding made of steel, which is stronger than vinyl, fiberboard cement, wood shake, and other materials, and will last for the lifetime of your home. What sets our siding apart is that it is seamless, meaning that it is custom cut on-site to fit the whole house, seamlessly.
Our steel siding is:
Protective – It won't expand or contract like other products and will help defend your home against hail, airborne debris, and more. Because it is seamless, it will also help reduce moisture and air infiltration into your home.
Attractive – Our siding comes in more than 27 colors and 15 styles to complement the look of your home and suit your unique taste.
Reliable – We back our installations with a limited lifetime warranty that covers rusting, fading, peeling, and even hail damage.
What's more, our installation team consists of highly trained professionals who have many years of experience. Our team will ensure your siding is installed properly so that it will protect your home for many years to come. Our longstanding commitment to installing exceptional siding and providing impeccable service has helped us to earn an A+ rating from the Better Business Bureau and a ranking among the top 500 home improvement companies in the United States by Qualified Remodeler magazine.
Contact ABC Seamless today for more information about seamless steel siding for your home in Omaha, NE.