Professional Siding Installation for Homeowners in Wood River, NE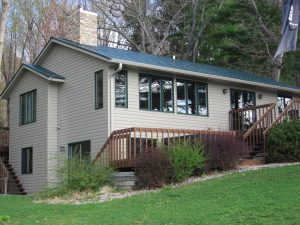 When beginning a siding installation project, it's best to partner with an experienced company that has a good reputation among local homeowners. If you live in the Wood River area, that company is ABC Seamless of Nebraska. We've been in business for decades and are proud to have been named one of the top exterior remodeling contractors in the country by Qualified Remodeler. When you choose us to install new siding on your home, you can rest easy knowing that your project is in good hands.
Seamless Steel: The Best Choice for Your Siding Installation Project
At ABC Seamless, we manufacture and install our own seamless steel siding. This siding offers many benefits, including:
Durability
Crafted from 28-gauge steel, our seamless siding is exceptionally durable and can last indefinitely. It will never warp, bend, or become brittle and will provide years of optimal protection against the elements.
Easy Maintenance
When you choose our seamless steel siding for your siding installation project, you won't ever have to worry about excessive maintenance. This siding creates a virtually maintenance-free exterior and will look like new for years to come.
Beauty
Because it is devoid of the unsightly seams most other types of siding have, our seamless steel siding offers a beautiful appearance that will help boost your home's curb appeal. Our siding installers will take careful measurements and then custom cut and shape your siding according to your home's exact dimensions, ensuring a perfect fit.
Schedule a Consultation
Contact ABC Seamless of Nebraska today to learn more about our top-quality products and professional siding installers. We would be happy to provide a free estimate for your Wood River, NE, home's siding installation.