Seamless Steel Roofing Will Protect Your Wood River, NE, Home for Decades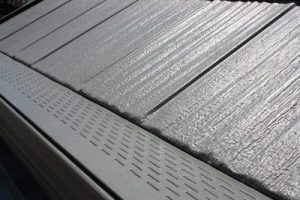 We've been the local experts on seamless steel roofing for more than 20 years. Our products are so durable and attractive that you can still find them in great condition on homes decades after we installed them.
What Makes Seamless Steel Roofing Such an Attractive Choice
Other roofing materials might be more ubiquitous than seamless steel roofing, but few can offer as many benefits. Some of these include:
A Lifetime of Protection
Our seamless steel roofing is designed to stand up to the elements for many years. While standard asphalt roofs can be expected to last about 20-25 years, a steel roof can last much longer. We believe in the durability of our products so strongly that we back them up with a lifetime, non-prorated, transferable warranty.
Enhanced Defenses
Our seamless steel roofing is rated to withstand wind speeds up to 130 mph and has a Class 4 impact rating, which is the highest available for residential roofs. Plus, with no seams along the length of the roof and a natural resistance to water, seamless steel roofing stops moisture in its tracks. Did we mention that it's also one of the most fire-resistant roofing options available?
Incredible Energy Efficiency
Many people don't consider their roofing materials when they think about improving their home's energy efficiency. However, the roof is often a major cause of heat and cold loss. Our seamless steel roofing meets or exceeds ENERGY STAR® guidelines, which means our roofs can help you lower your monthly energy bills.
Defend Your Wood River, NE, Home from the Elements with Seamless Steel Roofing
If you're ready for a roof that's superior to asphalt shingles, turn to the team at ABC Seamless of Nebraska. Our seamless steel roofing experts can help you design a roof that's perfect for your home. To find out more or to schedule a consultation, contact us today.