Choose ABC Seamless Over Other Siding Contractors in Lincoln, NE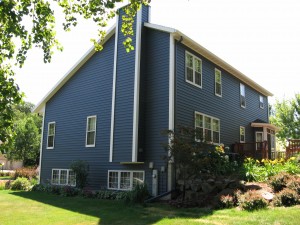 As you compare siding contractors in Lincoln, Nebraska, you'll see that few compare to ABC Seamless of Nebraska. Our innovative siding, which is made of 28-guage steel coated with a layer of PVC, represents the ultimate in protection for you home. Unlike the ordinary vinyl siding that you would receive from most other companies, our steel siding resists warping, bending, and becoming brittle. Custom made according to the exact dimensions of your home, our siding also eliminates the need for unsightly seams, ensuring uninterrupted beauty.
Aside from our remarkable siding, numerous other qualities separate us from other siding contractors in Lincoln, NE. Choose ABC Seamless for:
Our excellent reputation – Having served homeowners in this area since 1989, we have an outstanding reputation for completing exterior home renovations with the highest level of craftsmanship.
Expert installations – Instead of hiring outside workers to work on your home, like many other siding contractors would, our very own highly experienced team will install your siding to ensure the best possible results.
Phenomenal warranties – With an extraordinary lifetime warranty protecting your new siding, you can have complete confidence in making this investment in your home.
In-house financing – We offer convenient in-house financing to give you greater flexibility with your renovation project and to spare you from having to seek out financing from a third-party lender.
To learn more about what distinguishes ABC Seamless from other siding contractors, contact us today to schedule a free in-home consultation. We proudly serve residents of Lincoln, NE, and all surrounding communities.