Siding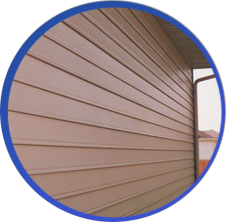 ABC Seamless Steel Siding is taking the home remodeling industry to a new level. Our siding is different from the others, because it's SEAMLESS. Most other siding must be constantly overlapped to reach the length of your home, creating a pattern of UGLY splices.
The average home has 130 splices. ABC Seamless Steel Siding eliminates the UGLY splices, that's why we're known as, "The Siding Without the QUACKS!"
While many of our competitors offer 'Seamless Vinyl' it is not truly seamless. It is still cut to lengths, often up to 12 to 24 feet. Plus it is VINYL, which fades, warps and cracks when exposed to mother nature.  ABC Seamless Steel Siding does not warp and crack like other inferior products.
Some homeowners say the way we install seamless siding on a house is magical. You can see it happen right before your eyes. Each piece of seamless siding is custom fit to the exact measurements of the home. The ABC Seamless siding machine forms every panel on the job site in the color and style you choose.
For more information on siding call (402) 391-4500 in the Omaha area or (800) 825-3360 in Central Nebraska.