Never See a Broken Shingle on Your Omaha, NE, Home Again with Seamless Steel Roofing
Many homeowners have been plagued by the sight of curled shingles on their roofs, shingle grit in their gutters, or, worst of all, wet spots mysteriously appearing on their ceilings. If you're tired of the endless maintenance on your Omaha, NE, roof, you should consider seamless steel roofing from ABC Seamless of Nebraska. We've been expertly upgrading the exteriors of Omaha, NE, homes for over 40 years and we can help transform your roof into a durable, carefree part of your home.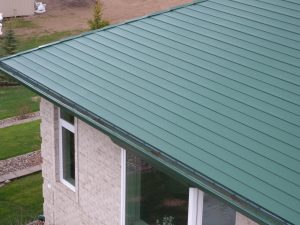 Seamless Steel Roofing Lasts a Lifetime
The biggest strength about seamless steel roofing is how long it lasts. Asphalt shingles are ubiquitous and relatively affordable, but part of the reason for that is because they need to be replaced about every 20-25 years. At ABC Seamless of Nebraska, our seamless steel roofs are made to last much longer than shingle roofs. We're so confident in our roofs that we back them up with a lifetime, non-prorated, transferable warranty — which means you can trust your roof to protect your home for as long as you own it.
The "seamless" aspect of our steel roofing comes from how we fabricate and install it. Just like our siding and other exterior products, we make seamless steel roofing onside when we arrive at a home and take exact measurements of a roof's dimensions. We never use one-size-fits-all materials. Not only does this process result in a more attractive product, it also ensures less access for rain, snow, and pests to breach the roof.
Another crucial aspect of seamless steel roofing is the increased energy efficiency it can offer your home. Our roofs are highly reflective and this is part of why a roof from ABC Seamless of Nebraska is ENERGY STAR certified. Our seamless steel roofing can actually help to reduce your home's energy consumption — and lower your energy bill.
Protect and Enhance Your Omaha, NE, Home with a Seamless Steel Roof
If you're ready to stop maintaining your roof and start making it work for you, turn to ABC Seamless of Nebraska. To find out more about our seamless steel roofing, siding, or other exterior products, contact us today.