Professional Roofing Contractors Install Steel Roofing Systems for Lincoln, NE, Residents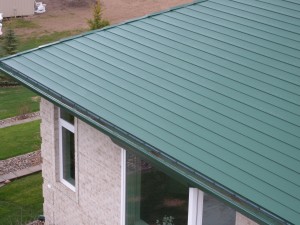 Steel roofing has long been known as one of the most durable and attractive residential roofing options available. Not only does it provide superior protection from the elements compared to many roofing options, but it's also extremely low maintenance.
If you're looking for roofing contractors to install a durable and energy-efficient roof on your Lincoln, Nebraska, home, look no further than the professionals at ABC Seamless of Nebraska. We've been working with homeowners throughout Nebraska for more than 30 years and have helped thousands of customers protect their homes with low-maintenance steel products, like steel shingles and seamless steel roofing.
With Our Steel Roofing, You Won't Need Another Roofing Contractor
At ABC Seamless of Nebraska, steel is what we do. Our team has extensive experience working with steel roofing products because, unlike other roofing contractors, we only work with one type of roofing material.
The steel roofing system we offer provides unmatched protection against strong winds, hail, and airborne debris with its 160-mph wind rating and Class 4 impact rating, which is the highest available. That means that your home will remain protected even in extreme weather.
Steel roofing is also extremely resistant to mold, mildew, and insects. Unlike other roofing materials, it can't rot and is designed to last for decades. Plus, its thick PVC coating provides further protection from natural threats.
Our steel roofing products are also easy to own. They'll retain their color for many years without fading, so there's no need for repainting. They're also easy to clean, giving you decades of protection with little upkeep.
And, with its ENERGY STAR®-rated materials and cool-edge coating, an ABC Seamless roof will reduce heat transfer in and out of your home.  In fact, our steel roofing is one of the most energy-efficient roofing options you can choose for your home, helping your HVAC system operate more efficiently, which could ultimately help lower your utility bills.
Professional Installation Guaranteed
At ABC Seamless of Nebraska, we offer expert installation services in addition to a great product. To ensure that your ABC Seamless roof will be properly installed on your Lincoln, NE, home, we will do the following:
Assign a certified production manager to your project, who will supervise our trained roofing contractors as they install your roof.
Follow quality control checklists and exact processes that have been designed and tested to ensure best practices.
Conduct a final walkthrough after your project is finished to make sure that it has been completed properly and that you are satisfied.
What's more, you can have peace of mind about investing in an ABC Seamless roof because we back our roofs with lifetime, non-prorated, transferable warranties, giving you the ultimate peace of mind. We stand out from other roofing contractors because we do our best to make sure an ABC Seamless roof is the last roof you'll ever need.
What Else Sets ABC Seamless of Nebraska Apart?
At ABC Seamless of Nebraska, we have a long history of excellence. Founded in 1989, we've been crafting premium steel roofing products for decades, earning us the experience necessary to cultivate a positive reputation all across the country. We're so confident in our craftsmanship and professional installation that we also stand by our work with strong product warranties that you can trust, since they're backed by a well-established, national organization. Don't just choose any roofing contractor for your home's roofing project—turn to one that's dedicated to customer satisfaction.
Our Dedication to Our Customers
We operate differently than many fly-by-night roofing contractors. As an established, national organization, we make our customers a priority. We like to say that we offer solutions, not sell products.
At the end of the day, we're here for you. That's why we've taken the steps to become an EPA Lead-Safe Certified company. Your safety is paramount to us, as is the ease of your experience when partnering with us. We offer easy, in-house, no-interest financing with no payments and no interest for 12 months to help make your home improvement dreams a reality without having to outsource financing. The result? A one-stop shop for your roof replacement project and a super easy process for you.
We understand that you're searching for the roofing contractors who actually care about your project—and that's ABC Seamless of Nebraska. Our commitment to quality, decades of experience, top-tier products, and customer-oriented processes all combine to make us the best pick for your home's roofing project.
The Only Roofing Contractors You Need to Call
If you would like to see for yourself why we are one of the most trusted roofing contractors in and around Lincoln, NE, contact ABC Seamless of Nebraska today!