Steel Roofing for Homeowners in Lincoln, NE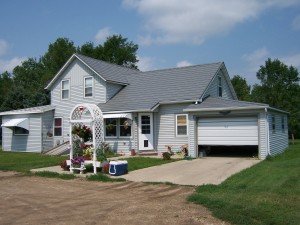 Your home's roof is the single most important factor when it comes to protection from the elements. Roof damage or leaks can spell disaster quickly and lead to expensive, time-consuming repairs. On top of the obvious protection that your roof provides, many homeowners also don't consider the critical role that roofs play in their home's energy efficiency. Considering how important your roof is when it comes to protecting your home in Lincoln, wouldn't you want to go with a roofing solution that offers the best protection?
That's where ABC Seamless of Nebraska comes in. As an exterior home remodeling company that specializes in installing some of the most long-lasting products on the market, steel roofing is right up our alley. Compared to traditional roofing materials, like asphalt shingles or cedar shakes, our steel roofing can be expected to last for many years on your home. In fact, we proudly offer beautiful metal roofing that will last up to 50 years, sparing you from ever having to replace the roof on your home again.
Steel Roofing Solutions
Besides lasting for longer than almost any other roofing systems on the market, seamless steel roofing offers many other benefits to homeowners. Some of the benefits that will help our steel roofing protect and enhance your home in Lincoln, NE, include:
Increased Energy Efficiency
Steel roofing is naturally reflective, stopping solar energy from entering the interior of your home. Additionally, cool-roofing technology, which minimizes heat flow through the roof to support a comfortable indoor temperature, also helps provide energy savings.
Superior Protection
Our steel roofing features Class 4 impact-rated materials, the highest residential rating possible. This fact, combined with the superior installation from ABC Seamless of Nebraska, allows our steel roofing to withstand 160 mph winds and impacts from airborne debris, protecting your home against extreme weather.
Natural Resistance
Steel roofing is naturally waterproof. It also strongly resists mold, mildew, and pests. Additionally, the steel roofs we install feature Class A fireproof components, which is the best rating possible for residential roofing materials. That means that our steel roofing resists catching fire even when it comes in contact with stray fireworks or embers from a fire pit.
When you choose ABC Seamless of Nebraska, you can also count on receiving a skilled installation by our expert, in-house team. We have an experienced crew of craftsmen who will precisely install your new steel roofing to ensure that it will last for years to come.
The Steel Roofing Experts in Lincoln, NE
If you want the finest steel roofing solutions, look to ABC Seamless of Nebraska. When you do, ask how our financing options can give you greater financial flexibility as you plan this important investment in your home. To have strong steel roofing expertly installed on your home, contact ABC Seamless of Nebraska today.