Roof Replacement Services Available in Omaha, NE, from ABC Seamless of Nebraska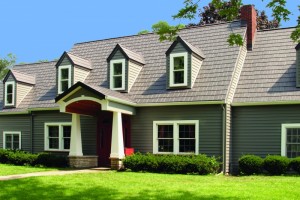 When you're searching for roof replacement services in Omaha, look no further than ABC Seamless of Nebraska. If your roof is sagging, leaking, missing shingles, or otherwise showing signs of age, it's time to start thinking about getting it replaced. At ABC Seamless, we manufacture and install durable metal roofs that offer a lasting solution to these problems. In fact, with an ABC Seamless roof on your house, it will likely be the last roof you'll ever need to buy.
Benefits of Metal Roofing
When you choose ABC Seamless for your roof replacement needs, you'll enjoy the numerous features and benefits that our metal roofs offer, including:
Resistance to wind speeds up to 160 miles per hour
A Class 4 impact rating for protection against hail and wind-driven debris
An ENERGY STAR rating for improved energy efficiency
Cool-edge coating that reflects heat and light away from your house
Durable metal that requires virtually no maintenance or upkeep
A wide variety of styles and colors so you can choose the one that matches your personal taste and your home's aesthetic
A lifetime warranty that covers rusting, peeling, fading, and cracking so you know your investment is protected
Frequently Asked Questions About Roof Replacements
Having a new roof installed is a major project, and you probably have several questions about the process, especially if you've never had to replace a roof before. To help you prepare, we've rounded up some of the most frequently asked questions about roof replacements and provided answers to each.
How Much Does a Roof Replacement Cost?
The cost of a new roof can vary greatly from one home to the next, so the answer to this question will depend heavily on the specifics of your project. For example, replacing the roof on a large home will likely cost more than replacing the roof on a small one, as more materials and labor will be needed. Intricate roofs also cost more to replace than standard ones, so the style of your home's roof will affect the cost of a replacement. And the roofing material itself will have a major effect on the final cost, since some materials are more expensive than others. For an accurate estimate, reach out to ABC Seamless. We would be happy to take a look at your roof and provide a personalized quote.
How Long Does a Roof Replacement Take?
A roof replacement can take anywhere from one day to several weeks to complete, and there are many factors that can affect the length of the project. Heavier materials, like metal, take longer to install than other options, but they also provide better protection and a longer-lasting value than most other types of roofing, making the wait worthwhile. It's important to consider the weather, too, as rain and snow can cause delays during a roof replacement. When you partner with ABC Seamless for a roof replacement, we'll provide an estimated timeline for your project, so you'll know what to expect and can plan accordingly.
Can You Finance a New Roof?
Having a new roof installed can be expensive, but most roofing companies offer financing to help their customers manage the cost. ABC Seamless of Nebraska offers in-house financing to make the process easier and more convenient for our customers. We offer better options than most banks and would be happy to help you find a plan that works for you.
In addition to offering first-class metal roofing, our roof replacement and installation services in Omaha, NE, are second to none. Our commitment to offering our customers excellent service is reflected in our A+ rating with the Better Business Bureau; and, we've even earned a Top200 Exterior Contractor designation from Qualified Remodeler. When you're in need of roof replacement services, you can count on the experts at ABC Seamless.
For more information on any of our home improvement products and services in Omaha, NE, or to get started on your roof replacement today, contact ABC Seamless of Nebraska.