Residential Roofing for Omaha, Kearney, Papillion, Council Bluffs & All Surrounding Communities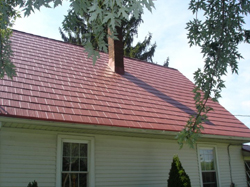 Often costing thousands to replace, residential roofing is a major expense that most homeowners usually have to face every 10 to 20 years, especially when materials like asphalt shingles or wood shakes are used. However, there is a roofing product that can outlast most other materials and may be the last roof you'll ever need to buy – an ABC Seamless steel roof. Our residential steel roof products not only will last indefinitely, but it requires no maintenance and will look beautiful for years to come.
Our residential roofing offers many other benefits, including:
ENERGY STAR rating – Thanks to its Cool Edge coating, our roofing can actually help to lower your home's cooling costs during the warmer months
Class 4 impact rating – Our roof resists damage from hail and flying debris
Incredible wind resistance – Our roofs are able to withstand winds as high as 160 MPH, or the equivalent of an EF-3 tornado!
When you choose our product, you can rest assured you're working with a residential roofing company that has highly skilled roofing installers who take pride in exceptional workmanship and won't rest until you are completely satisfied. Our outstanding commitment to quality has helped us earn an A+ rating by the Better Business Bureau and a Top 500 ranking from Qualified Remodeler for 15 years and running.
For more information about our residential roofing services, contact ABC Seamless today. We serve Omaha, Kearney, Hastings, and all surrounding communities. We also offer residential siding, replacement windows, gutter protection systems, and more.