Residential Siding for Omaha, Grand Island, Hastings, Council Bluffs, and Surrounding Communities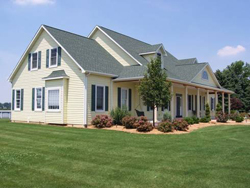 Residential siding from ABC Seamless is ideal for protecting your home from wind, rain, rot, and rodents. Unlike products from most other siding contractors, ours is designed without the unsightly seams that can allow weather and pests to enter your home, potentially causing costly damage to the structure. We offer truly seamless siding because, unlike other companies that install pre-cut siding, we custom cut our siding to the exact length of your exterior walls.
There are many other reasons that our residential siding is superior, including:
Its 28-gauge steel construction –The fading, warping, and cracking that is common to vinyl siding won't be problems with our highly durable steel siding.
Maintenance-free protection of your home – Wood and fiber cement siding require regular upkeep, including painting, sealing, and repairs.  Our seamless steel siding requires little more than occasionally washing it with a hose to keep it looking its best.
A wide array of color options – With 27 colors and 15 styles to choose from, we can provide a custom residential siding solution that is perfect for your home and superior in beauty to virtually any other siding products.
A lifetime warranty that covers peeling, rusting, fading, and even hail damage.
Contact ABC Seamless today to learn more about our innovative residential siding and to get a free quote. We proudly serve residents throughout Nebraska and Southwest Iowa, including those in Omaha, Grand Island, Kearney, Council Bluffs, Bellevue, and Aurora. Additionally, we install composite windows, patio enclosures, residential roofing, rain gutters, gutter protection systems, porch enclosure systems, soffits and fascia, and much more.