Residential Roofing for Omaha, Kearney, Grand Island, Council Bluffs & All Local Communities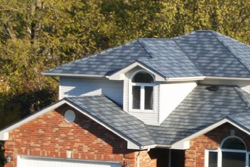 If you're in need of residential roofing and want a durable product that will never need replacing, turn to ABC Seamless. We offer a permanent solution that can be the last roof you will ever need to buy. Our steel roofs are among the strongest you will find, and they are manufactured to meet or exceed some of the industry's toughest standards. Our steel roofs are far superior to nearly any of the other products on the market, because they won't fade or degrade like shingles, chip or break like tiles, or warp and rot like wood shakes.
Our steel residential roofing offers many features and benefits, including:
Class 4 impact rating – The best possible defense against hail and wind-driven debris, protecting your home against severe damage during storms and protecting your family from violent weather.
160-MPH wind resistance – Our steel roofing can withstand forces as strong as those from an EF-3 tornado.
ENERGY STAR rating – The Cool Edge coating on our steel residential roofing can repel heat away from transferring into your home, potentially lowering your energy costs and reducing the strain on your heating and cooling equipment.
When you choose us as your residential roofing contractor, you can be confident that your roof will be installed by thoroughly trained experts who are highly proficient and skilled. Our commitment to superior workmanship and offering the highest quality products has helped us to earn an A+ rating from the Better Business Bureau and a Top 500 ranking from Qualified Remodeler for 15 years running.
For more information about our residential roofing or any of our other products, including custom siding, gutter systems, energy efficient windows, and soffit and fascia, contact us today. We proudly serve homeowners in Omaha, Hastings, Papillion, and other communities throughout Nebraska and Southwest Iowa.