Gutter Systems for Omaha, Bellevue, Grand Island, Aurora & All Nearby Areas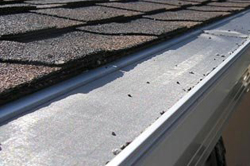 When you choose ABC Seamless's gutter systems for your home, you are making an investment that can help protect your home from water damage and other costly problems. When water runs down the side of your house as it leaves your roof or leaks from an inferior gutter, it can adhere to the underside of your eaves and trickle into your walls. Also, without the proper gutter system, rain may pool near the foundation of your home and seep into crevices and cracks that lead into your basement. Our gutter systems are designed to eliminate these problems because they are highly durable and custom manufactured to perfectly fit your home and effectively channel water away. Our 28-gauge galvanized steel rain gutters are much stronger than vinyl and resist seasonal expansion and contraction during temperature changes, and won't warp, crack, or rust. Plus, our designer gutters and downspouts can handle up to 23 percent more water than typical gutters, reducing the risk that your gutters will overflow during a heavy rain storm.
Other benefits of choosing our gutter systems include:
A wide selection of colors – We have an array of color choices, providing plenty of options that perfectly suit your home's exterior appearance.
Seamless construction – With our custom manufacturing methods, we can produce a gutter that can run the length of your roof or eaves and remain free of seams.
A streamlined appearance – Our gutter system is attached to your home with hidden steel hangers, which produce a cleaner look and greater durability.
Contact us today to learn more about our gutter systems for Omaha, Kearney, Hastings, and Mills County. We also install Gutter Guard gutter protection systems, residential roofing, soffit and fascia, sunroom additions, and much more.